About SSC
When the Scottish Ski Club (SSC) was founded, in 1907, the wooden skis of its members would have been more than seven feet long. Just 50 people in Scotland were known to own a pair and all were invited to join the new club. Fourteen men attended the inaugural meeting, including Dr Bruce, a scientist who lived in the observatory on Ben Nevis and used his skis to go up and down to Fort William. This intrepid academic became the SSC's first chair and the membership fee was set at five shillings.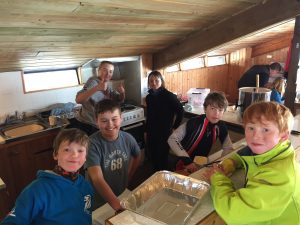 While the sport of skiing has evolved enormously over the past 100+ years, the goals of today's SSC remain very much in line with the aims established that November evening in 1907. The promotion of all types of skiing has always been key, along with sharing information on technique and local weather conditions. The Club doesn't hand out free skis to shepherds and postmen any more but, moving with the times, has developed a range of mountain huts, nurtured a successful race training programme, and set up a series of annual social gatherings on and off the snow.
The SSC's greatest asset is its members, who all share a passion for the mountains in winter, and where better to meet like-minded snowsports enthusiasts than in one of the Club's 'huts'? These friendly and inviting mountain bases are located in key ski areas to provide a warm welcome for members – as well as a refuge in a snowstorm. The huts on Cairngorm, Glenshee and on Meall a'Bhuiridh (Glencoe) are modern timber structures designed especially for the Club. More recently, the SSC opened a Club Room beneath the Snowgoose Restaurant on Aonach Mor (Nevis Range). They're all ski-in ski-out or reached by a short walk, and can offer catering facilities when needed.
The Club keeps in touch with members via a quarterly newsletter, which brings news of SSC affairs, upcoming events and recent get-togethers. Also free to members is the Club Journal, a colourful print publication packed with articles on all aspects of Scottish and Alpine skiing, as well as comprehensive reports on the SSC season. The Journal is also illustrated with quality photographs, which makes it an excellent Club keepsake.
Racing and race training have always been important to the Club and it continues to be a dynamic force in the development of promising athletes. Indeed, many British Olympic team members have the Club to thank for honing their skills and nourishing their talent. At home, there is SSC race training on Cairngorm and Nevis Range, while abroad the Club joins forces with other Scottish groups to organise up to four Alpine training camps. Where possible, the Club runs competitive events in the Alps and in Scotland – including a boisterous end-of-season race that is open to all ages and abilities.
Equally lively is the Club's annual Alpine ski holiday, a sociable trip for all members that offers a variety of skiing options, from leisurely to energetic. In the summer, the Club's programme of hill-walking weekends provides a similar range of opportunities for members.
The Club celebrated its centenary in 2007 and it continues to represent the beating heart of Scottish skiing. For anyone who enjoys the snow it's where you need to be – with or without those seven-foot skis!