Ski Touring
The Scottish Ski Club is one of the UK's largest ski clubs and has an active ski touring and ski mountaineering membership.  Ski tourers are welcome who wish to enjoy skiing the mountain wilderness with the comradeship and safety of a group.  Club tours are self organising and largely comprise day tours from Scottish Ski Centers where the club has its own excellent mountain hut facilities at Glencoe, Cairngorm, Nevis Range and reciprocal hut access at Glenshee.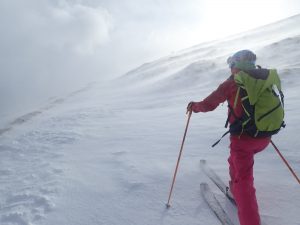 Ski Mountaineering Competitions
In recent years ski mountaineering racing has become re-established in Scotland.  It combines athletic skiing with mountaineering skills incorporating technical ascents and descents. There are different types of courses ranging from vertical races when racers skin uphill over a set distance to courses that have short steep sections which require the racers to put their skis on their backpacks; all combined with technical downhill sections. Races have been held at Glenshee, NevisRange, Glencoe and the Lecht. Competitions are organized by Skimo Scotland Ltd  
Ski Touring Equipment
Most ski tours require metal-edged telemark or alpine skis with touring bindings and climbing skins.  In addition, participants should be prepared and equipped to deal with the full range of winter conditions, which can be challenging both overhead and under ski.
In 2013 the club received grant support from SnowsportScotland to establish a pool of essential ski touring safety equipment.  The equipment which is available to loan to club members, includes: avalanche beacons, probes, shovels, climbing skins and ski touring attachments that can be fitted to down hill skis.  The items of equipment are split between the club's NevisRange and Cairngorm sites. Members wishing to borrow equipment should make contact with:
The Club gratefully acknowledges the support provided by Anatom, who supplied items of safety equipment.
Contact for borrowing the equipment – Colin McFarlane colin.mcfarlane@incito.co.uk
Ski Touring, Avalanche and Snow Safety Training
The Club is keen to encourage more members to participate in ski touring.  In 2014, the Club organised its first workshop aimed at providing an introduction to ski touring and snow and avalanche safety.  The workshop was run by local Mountain Guide George Reid.  Feedback from participants has been very positive and further workshops are being planned for the 2014-2015 winter, including introductory workshops and an Advanced Skills workshop.
Please revisit this webpage in December for further information.
Further information
Avalanche and Snow Safety – Avalanche hazard considerations should always be part of any winter hill goers daily plans.  Off-piste skiers and ski tourers should be aware of the prevailing snow and weather conditions, particulalry in respect of any potential avalanche hazard.
The Sportscotland Avalanche Information Service (SAIS) brings hill users daily forecasts of the avalanche hazard for five areas of Scotland, during the winter season.
Mountain Weather – Mountain Weather Information Service (MWIS) produce detailed mountain weather forecasts for eight different mountain areas of the UK as an aid to mountain safety.  Forecasts are produced manually using information from a range of forecast models and forecasters knowledge of mountain weather. New forecasts, for the next three days are produced by 4:30pm daily, normally earlier in the winter, and amended as necessary.  The production of the Scottish forecasts is fully funded by the Scottish Government through sportscotland with the support of The Mountaineering Council of Scotland.